Saturday, August 26, 2006
Monetizing Clicks
I've been playing with
Revver
alot over the last few days. I've uploaded
14 videos
, some bad, some stupid, perhaps a couple that are good. What I find interesting is that revenue on Revver seems to accumulate far faster than Google's adsense. I am starting to feel out what combination of video names, key words, and descriptions will generate the largest revenue.
Experimenting with Sound Effects
This video was taken at the Sydney Aquarium as well. The original background noise was lots of kids yelling with echoing. I found a site of free sound effects online and looped the sound of a stream.



Jellyfish--A Video Taken in Australia
This is the next in a series of VERY short videos from Australia. This very short video was taken at the Aquarium in Syndey.



Thursday, August 24, 2006
Helicopter Ride over the Twelve Apostles
Back in June, I didn't get around to posting any of the video that we took during our trip to
Australia
. As I manage to digitize clips I'll post them. This first video clip is of a helicopter ride we took. The views were outstanding. This short doesn't do justice.
We had travelled down the Great Ocean Road and this was the highlight of that day trip.
Dogs Get Dinner
"Revverised" video of the pups getting supper tonight.



DIGG
DIGG>
is a
social networking
site that allows people to recommend (or digg) articles on Websites. The more diggs, or recommendations, a site gets, the higher it shows up in a list of thousands of articles. Using contextual tags, the site can quickly drive traffic to site that is being recommended because of its status. This provides a kind of viral marketing that can be very powerful.
How do you use Digg?
1)
Sign up
-- it takes about 20 seconds
2) Login
3) Submit a topic
It is THAT simple.
This tool, along with other social networking sites like Revver, can provide a suite of very interesting tools that integrate together in very interesting ways.
Wednesday, August 23, 2006
Revver
Today I started messing around with
Revver
to figure out some of the basics of Video Blogging. I already knew about YouTube having written about the service in the past. Revver has a really good advertising sharing model where both the content owner and Revver enjoy an equal share of revenue. In fact, within a few minutes of my posting my first video (see my previous post) I had had earned a whopping $0.45.
Using Revver is as simple as
1)
signing up--takes 45 seconds.
2)
downloading the upload client--about a minute on broadband.
3)
uploading content--I used unedited content that was filmed with digital still cameras
Revver authenticates who you are when you launch the upload client. Just drag and drop your content to the client.
If it amuses you to see my first experiments, you can access them
HERE
. If I produce any decent content, I'll also post it on the blog here.
Another interesting way Revver works is to allow you to syndicate OTHER people's content allowing you to monetize content you think is cool. Content like this:
Thanks to
Kris Krug
for suggesting this tool during my recent visit to Vancouver.
Fremont Howling
Some time back, we took a video of Fremont HOWWWWWLLLLLLING! We were watching Cold Mountain and the fiddle drove him absolutely nuts. The other dogs tried to figure what Fremont was up to. A full 8 pounds of howling fury!

Enjoy!



Dell's Woes
Apparently
Qantas
Airlines has banned
Dell
laptops unless the battery has been removed because of the
flaming
battery problem they are having. Add to this the huge
selloff
of Dell stock, it has to have the company wondering what direction they ought to take.
This is what can happen to a company that starts out nimble and small and grows unbelieveably quickly. The gaff that was outsourcing customer support offshore took some shine off the company. Now a huge recall of batteries, declining profits, lowering stock valuation has to be worrying the leadership. Add to that that HP is enjoying increased profits and Apple is starting to eat into laptop marketshare.
Interesting things are afoot. I wonder what Dell's next move will be and if they have become so large that they can no longer react to the market like a small company?
Tuesday, August 22, 2006
Wierd Al and MP3 Downloads
Speaking of favourite apps...
The
Killer App
contest got me thinking about the freeware that I use on a daily basis. My experience is coloured somewhat by the fact I'm a
ReplayTV
zealot. Not the new software--although if it is strong enough I could be convinced--but the old hardware platform. So, I'll break my list up into those apps that would be useful for any old joe, and those specific to ReplayTV users.
Any Old Joe
1)
VideoLan Client
is by far one of my favourite apps. I use it almost exclusively to view MPG files. It can take *almost* anything I throw at it.
2)
FFMPEGX
can convert anything into almost anything else. It is fabulous.
3)
Audacity
can capture and convert vinyl, audio tape, ANYthing you can get into the input of your Mac and convert it to a variety of formats including MP3. It is a GREAT freeware app.
4)
ReplayToGo
is more of a compiler of other apps, but it automates converting MPEG files for use on the iPod.
5)
Skype
keeps me in touch with my programmers, family, and friends.
6)
Chicken of the VNC
is a free Virtual Network Client. It ROCKS.
ReplayTV Specific
1)
DVArchive
is the most valuable tool ever made for ReplayTV users. It allows you to download shows locally, stream through VLC from your ReplayTV, set up recordings, and so much more.
2)
Mongo
allows you to update Poopli if you make use of IVS in the 4 and 5K series of ReplayTV.
I'd love to hear what free apps you use and find valuable.
My Dream App
Think that email is the killer app? How about the Web browser? Tetris?
A
contest
has been started to identify 24 new ideas for the killer application.
Think you can come up with the best idea? You could win a computer or iPod.
You're Fired!
Dozens
of Apple employees could find themselves without a job over the recent 10.5 leak. The genie is out of the bottle (which Jobs did NOT want to happen) which means we may see Microsoft trying to leverage some of the new features. Apple should seriously look at this as an opportunity and use as much of the installed userbase as possible for testing.
Monday, August 21, 2006
Posting Pictures on Flickr
I'm going to start uploading part of my library of photos to Flickr. So far 118 have been uploaded
HERE
All the images are in a non-touched up state with no cropping or colour correction--they are as they were taken by my camera.
If you like something you see, please let me know!
Vancouver Pictures from the Blue Horizon Hotel
These were all taken with my phone, a Treo 650. The view from the 31st floor of the hotel was pretty stunning.
---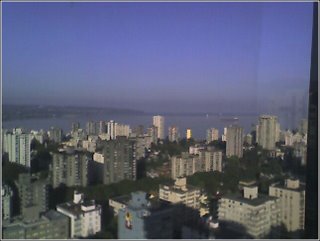 Ohio Arts Council Selects New Executive Director
"The Ohio Arts Council Board has chosen former Ohio Arts Council Deputy Director Julie Henahan as the new OAC Executive Director."
Julie has been the Interim Director since Wayne Lawson stepped down. Congratulations Julie! I, for one, am looking forward to our continued work together.
OAC Notice
Vancouver Meeting
This past Thursday and Friday, I have been in Vancouver with
WESTAF
folks and a group of smart techies/arts people from Canada. The WESTAF congingent included Len Edgerly,--our Chair and soon board member of NEFA (another regional arts organization)—Anthony Radich ED of WESTAF, Shannon Daut Sr Director of Programs of WESTAF, Alex Ooms a WESTAF advisor. The group from Vancouver included
Darren Barefoot
from Capulet,
Kris Krug
Technologist and Photographer, Gillan Rowe the Associate Manager of
Pacific Theatre
, James Sheret a Web Developer and Novelist,
Roland Tanglao
a Technologist, and
Monique Trottier
the Web Marketing Manager for
Raincoast Books
.
Len and Anthony asked Darren to bring this group of people together to discuss strategies to help move WESTAF's technology programs to the next level. The meeting was in the format of an informal brainstorming session, with the first evening being an overview of WESTAF activities and capacities.
Currently WESTAF has five main technology programs.
ArtJob Online
– A service that provides a place to post and search for jobs in the arts—mostly in the US.
ArtistsRegister
—A service for artists to market work.
ZAPPlication org
—A service for indoor and outdoor festivals to solicit applicantions from artists.
CaFE
(CallforEntry.org—A service for public art programs, galleries, museums, fellowship programs to solicit applications from artists.
CultureGrants Online—a service for granting agencies to accept and manage the grant application process.
A good chunk of what we discussed revolved around social networking systems like DIGG, Technocrati, de.li.cious, LinkedIN, and Flikr. Some of these tools I've been using for some time in my personal life but in the discussion aspects of linking and sharing data (whether it is text, images, or video) through tagging and grouping with like individuals (and groups) has some interesting possibilities.
Personally, I will be starting to load some of my enormous library of photographs to Flikr and link them back to my blog. I use Technocrati and LinkedIN, but I'm fairly sure I can make better use of these tools after this conversation.
Some fascinating insights came from this conversation—first off, the Web used to behave like wave form patterns. You would create content and the causal affect of this would be like a wave moving from your Web content. Increasingly, organizations and individuals have more than one presence on the Web and these presences may not have any direct connection with other presences. For example, I have my own—sadly un-updated—Web site, I have this blog, I can be found on LinkedIN, Technocrati, on ArtistsRegister, and on a myriad of other hosted systems. These are all like particles in the Web. So using aggregating tools, I should be able to create a cluster of content that can be accessed by others using RSS feeds (for example). Using contextual tagging, this content can also be clustered with other user's information even for temporary disposable purposes like a single cultural event.
Social conferencing and contextual tagging increase the possibility of my being found in an ever expanding Internet.
Wikis also represent an engine for collaboration that we might be able to make use of. For example, turning one of our site's FAQ's into a Wiki affords us the opportunitiy to make use of other user's knowledge base outside of the immediate WESTAF team. Currently we use forums in this fashion, the posts tend to be simple question answer relationships.
Web 2.0 is propelling us into a Hyper Social world. In which PARTICIPATION is key to success.
I was entirely engaged over this day or so of conversation. It was one of the best conversations regarding Web tools than I've had in very long time. I hope it continues.
Thanks to Darren and Len for setting this up.