Saturday, June 17, 2006
Back in Sydney
We're back in Sydney today and we had fabulous weather. Clear skies--warm weather. It was about 18 celsius today (about 68 for our F friends).
We headed downtown and hit Paddy's Market where we purchased fruits and veg for the next few days. They had great looking fish, but we didn't have any way to keep it cool so passed.
Then we took the monorail around the monorail circuit ending up a the "tall pointy thing" also known as the Sydney tower. We went to the top and looked around. The view is pretty amazing.
Then we watched "OzTrek" in the tower. It is ok, but I wouldn't really recommend it. Nothing special.
After that we headed back to Blacktown.
It was a pretty low-key day, but a good one.
Thursday, June 15, 2006
Butterflies and Jellyfish
Melbourne Part 4--Zoo and Aquarium
Tonight's posts revolve around the Zoo and Aquarium in Melbourne. It was our last day here and we decided to stay local. We had a very expensive breakfast in the hotel restaurant which was pretty unsatisfactory. Paula ordered banana pancakes to which she was told that they had no bananas and in fact bananas are very rare in Australia. We've been eating them since we got here.... Go to the local grocer, 7-11, Coles... They are easy to find.
We headed to Victoria Market for an hour or so and picked up a t-shirt for our daughter. It is really just a great big flea market with a produce and meat market attached. It was amusing.
Then we headed off to the Zoo. It is being renovated and I must say that the habitats are really good. They are spacious and natural. When animals and humans can safely interact, there is no barrier between you and the animals. A good example are wallabys. They are gentle and easy going. I was very impressed by the main aviary and the butterfly exhibit. Both featured Aussie critters and both were excellent. It was a really good hike. My only complaint was a really poor lunch that cost far far far too much.
In the afternoon we went to the Aquarium, which has one central tank that is awe inspiring. However, for the 50 odd dollars we paid for admission, there were too few exhibits.
Finally we went to Portland Lane for dinner. We had a risotto which was passable and kangaroo fillet which was remarkable. Kangaroo has a flavour that is almost a mix between buffalo and lamb. It is extremely lean and very flavourful. I liked it.
Wednesday, June 14, 2006
Twelve Apostles another perspective
Due to the never ending pounding the Southern Ocean has on the coastline and the gelogical features close to the coast, eventually the pillars of limestone crumble into the ocean. This happened in the last year.
In this picture taken by Brett McKenzie, http://www.mck.com.au/users/brett/, you can see one of the pillars clearly in the foreground.


In this picture, that I took a couple of days ago, you can see how the pillar crumbled into the ocean changing how the water hits the coastline.




Very cool stuff.
Koala Conservancy and a Kanga Petting Zoo
Today we went to three places.
1) A Kanga Petting Zooish type thing.
2) A Koala Conservancy
3) Phillip Island to see the Little Penguins come in from the sea.
Of the three, the penguins were the best part. Unfortunately they do not allow photography of any kind in the penguin habitat. Watching and listening to these little guys come in from the sea after a day of feeding was amazing. It isn't something that I will forget for a very long time. You can see pictures and get more information here:
http://www.penguins.org.au/content.asp?pg=54
It was a great experience that I would recommend to anyone in Melbourne.
As for the other two... well here are some pictures. Check out how close we were able to be to the Roos and the Koalas. Also we were lucky enough to see a Kookaburra close up. The kookaburra is the largest of the kingfisher family. The conservancy is in place to save habitat and save the Koala which is at risk. The Koalas are not tame--just fast asleep. The Roos were very tame and you could pet them.
Additional Photos from the Great Ocean Road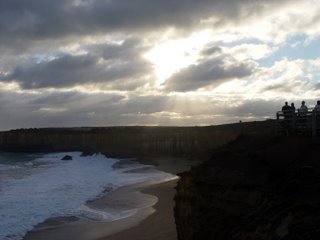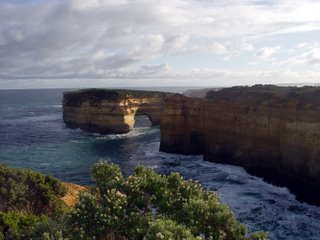 Yesterday's trip was pretty amazing. I have some more photos of the rugged terrain that we encountered. The bay is the site of a horrible shipwreck.
I'm also including a photo of "London Bridge" which, until recently, was connected to the the land. A married couple (but not to one another) were the unfortunates who had crossed the bridge prior to the connection falling into the ocean. This stranded them and led them into a media circus following an ariel rescue. OUCH!
Anyway, the scenes are pretty dramatic.
Tuesday, June 13, 2006
Day 7 The Twelve Apostles from the Ground
This series of strutures was originally call the "Sow and Piglets". The tourism powers that be decided that this wouldn't bring in the crowds and so changed the name to "The Twelve Apostles". Never mind that there aren't exactly 12 structures and there never had been.
We were there on a pretty calm day, but the breaks against the coast were loud and powerful.
So...some pictures from the ground.
Day 7 Images of the 12 Apostles from the Air
We traveled today from Bell's Beach to Port Campbell. Near Port Campbell is a state park that includes these geological features that have been created by the sea. We engaged a Helicopter company to fly us over these features called "The 12 Apostles". It was a remarkable experience.
Day 7 The Helicopter
Day 7--I think--Koalas!
We traveled down the Ocean Highway today. It is an unbelievable stretch of road with mind blowing natural features. We were lucky enough to come across a bunch of koalas in a stand of gum trees. We were all THRILLED to see them out in the wild.
Monday, June 12, 2006
Melboune Part 3--Blue Dandenong Ranges--The Observatory
We didn't have such a good view of the city, but the view was pretty spectacular none-the-less. On a good day, you can see all the way to Melbourne and into the harbour. The observatory is about 600 metres above sea level, no where near as high as back home. Still, they boast a wonderful garden and a great view.
Melbourne Part 3--Blue Dandenong Ranges--Old Growth Forest
The forests in the Blue Dandenong Range are 80-85% Eucalyptus. Another large percentage of the trees left are fern trees--an ancient variety of tree that lived when the dinos were around. The Eucalyps can live many hundreds of years much like the redwoods. We know that many of the trees in the stand we were in have been around for about 200 years, a timeframe we can bank on because of a well documented fire.
These trees are huge. I've been to the trees in Cathedral Grove in BC, and they are similar in size. The difference is that most of the foliage is up top. They are evergreens and shed bark each year.
The Blue Dandenong Range is national park and as such nothing is removed. When branches fall, they stay where they land. When a tree comes down, it isn't moved. These rule stand unless they are a hazard for life and limb. The result is a remarkably beautiful park.
Melboune Part 2--Blue Dandenong Ranges--The Birds
These birds are wild and fly about in the Eucalyptus old growth forest up in the Blue Dandenong Range. They are tame enough to eat out of your hand, but wild enough to not be tame. Think the pigeons in Central park...but much much smarter. We spent about 10 minutes feeding them.
There were four varieties that we saw, but apparently there can be others at different parts of the year or day.
Melbourne--the bus ride (or 3 cute pictures of my daughter)
Sunday, June 11, 2006
Day 5 Train from Sydney to Melbourne
We didn't take many pictures from Sydney to Melbourne, there was too much glare off the windows to get good shots. I did get two that were salvage-able. On in the day and one just as the sun went down.
The countryside between the two cities is pretty marvelous. Lots of sheep and cows were grazing. I find it very interesting how different the terrain is here than anywhere else that I've been. The sheer quantity of Eucalyptus is amazing--I found out that there are over 200 kinds of Eucalyptus, but only about 20 of them do Koalas eat. Also, they shed their bark, not leaves, in the fall--so we're seeing all these bare trunked trees about.
Today is Day 6. We're taking it easy--a short afternoon tour of the city and an early night because tomorrow we hit the Ocean Road and it is going to be a very long day.